Bonanza grad leading UNLV hockey team
Published by UNLVHockey on February 21, 2009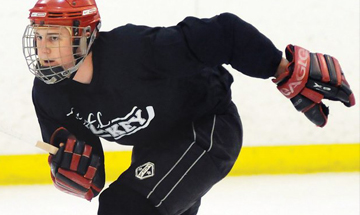 On the UNLV hockey team, players from puck-rich states like Alaska, New Jersey, Wisconsin and Illinois dominate the Rebels' roster.
But the man who wears the coveted captain's 'C' on his uniform grew up a 15-minute drive away. Ryan Krametbauer, a 2005 Bonanza graduate, is in his second year as UNLV's captain.
"It makes you feel pretty special because you're elected captain by your peers," Krametbauer said. "It shows they want you to be their leader. You have to appreciate what the guys have to say about you and show up and be a leader."
A veteran presence like Krametbauer's is crucial, coach Rob Pallin said. After finishing 13-13-2 in his first season a year ago, Pallin began recruiting new players from out of state.
The recruiting efforts gave Pallin a much more talented team when he held tryouts last month. About seven players eligible to return from last year's roster failed to make the cut. The Rebels bring back only about 10 players on their 25-man roster.
"Having as many new guys as we do, it's become pretty interesting to see how quickly the guys have adapted," Krametbauer said.
A defenseman, Krametbauer scored one goal and added nine assists to go along with 60 penalty minutes in 28 games last season. Pallin said the team relies on Krametbauer's consistent defensive play, but his biggest value is his leadership.
"He keeps everybody in line," Pallin said. "I always expect my team captain to be like a coach in a way. I don't think people know everything Ryan does off the ice. He puts in a lot of hours every week just to put things in the right order as far as our program is concerned."
Krametbauer said the landscape of hockey in Las Vegas, with club teams like the Ice Cats and Outlaws, has changed dramatically.
"Not only are we fielding teams in youth hockey that make regional tournaments, they're actually winning national tournaments," Krametbauer said.
Krametbauer will graduate in May. After that, he hopes to attend law school at UNLV. Should that happen, he would have one more year of eligibility with the Rebels, which he plans on taking advantage of.
"I've always loved Las Vegas," he said. "I never was one of those guys in high school that had to leave town."