Summerlin hockey guru hopes to build dominant club team at UNLV
Published by UNLVHockey on February 21, 2009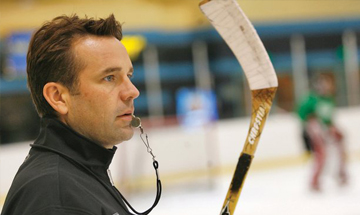 As coach of the UNLV hockey club, Rob Pallin doesn't have scholarships to offer his athletes.
But that doesn't stop the Summerlin resident from recruiting on a national scale and trying to make the Rebels the most potent team in the American
Collegiate Hockey Association.
Now in Pallin's second year, UNLV is off to a 6-0 start through Oct. 1 after going 13-13-2-2 one year ago.
"Right after the last game of the year, I literally went on the road and started recruiting kids," Pallin said. "Not every kid is going to have the ability to play NCAA hockey, but a lot of kids in the Southwest and even Alaska still want to go to school and they still want to play hockey because they have their whole life."
Pallin strongly pitches UNLV's top academic programs, such as hotel management, business and criminal justice to sell some of his recruits on the school.
Pallin said the skill level of the players he recruited was so much higher than the team he inherited in 2007 that he had to cut about 10 players that would have been eligible to return this season. Club teams have tryouts every season and no roster spots are guaranteed.
Pallin's goal is for the Rebels to win 25 of the 32 games on their schedule.
"The talent level is going to up every year with (Palin) here," said freshman Mike Zenzola, who played three years of junior hockey before joining UNLV. "From what I've heard about last year until now, he's already brought it up another level. "
Pallin took over the Rebels after coaching the Las Vegas Midget hockey program, primarily players ages 15 to 18, since moving to Southern Nevada in 2000.
He guided a number of local players to the next level, including Adam Neglach, currently the captain at the University of Alaska, and Eddie Delgrosso, a Cimarron-Memorial graduate who plays for the University of Nebraska-Omaha .
"There are a lot of good hockey players here," Pallin said. "I was surprised when I moved here in 2000 how many kids play hockey in Las Vegas. And they do it 12 months out of the year."
Pallin moved to Las Vegas after playing for various professional leagues in Germany, Italy and France from 1990 to 1999. During summers, he made his way to Las Vegas to compete for a professional roller hockey team coached by Chris McSorley, who also coached the city's now-defunct International Hockey League team, the Las Vegas Thunder.
Before turning pro, Pallin played Division I hockey in the 1980s, including two years for the University of Minnesota-Duluth.
Pallin took over the UNLV program, which is only in its fourth year of existence, because he wanted to test himself coaching college hockey.
"You want to recruit hard, but you want to get to a point where you have your phone ringing with people calling you," he said. "You wouldn't believe the e-mails I get every week now from kids all over the country that know how great the hotel management program or the criminal justice program is but they're great hockey players that want to continue playing."
Joshua Jasek-Jepson, a freshman who played for Pallin as a Midget player while attending Mojave High, joined the Rebels this summer.
He said UNLV's program is ready to break out under Pallin's leadership.
"Coach really made an effort to get a team he could really take to the highest level and hopefully make it all the way through nationals," Jasek-Jepson said.